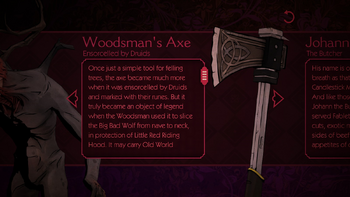 Woodsman's Axe is an unlockable Book of Fables entry in The Wolf Among Us, earned during the course of "In Sheep's Clothing".
Book of Fables Entry
Edit
Once just a simple tool for felling trees, the axe became much more when it was ensorcelled by Druids and marked with their runes. But it truly became an object of legend when the Woodsman used it to slice the Big Bad Wolf from nave to neck, in protection of Little Red Riding Hood. It may carry Old World charm, but its simplicity of design and quality workmanship make it an effective tool - or weapon - even today.
Ad blocker interference detected!
Wikia is a free-to-use site that makes money from advertising. We have a modified experience for viewers using ad blockers

Wikia is not accessible if you've made further modifications. Remove the custom ad blocker rule(s) and the page will load as expected.