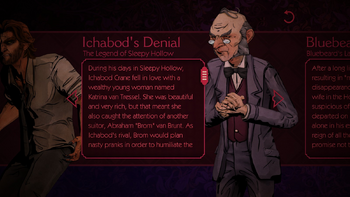 Ichabod's Denial is an unlockable Book of Fables entry in The Wolf Among Us, earned for being violent during Bigby's interrogation of the Woodsman or Tweedledee during "Smoke & Mirrors".
Book of Fables Entry
Edit
During his days in Sleepy Hollow, Ichabod Crane fell in love with a wealthy young woman named Katrina van Tressel. She was beautiful and very rich, but that meant she also caught the attention of another suitor, Abraham "Brom" van Brunt. As Ichabod's rival, Brom would plan nasty pranks in order to humiliate the often superstitious schoolteacher. Despite Brom's plots to win Katrina over, Ichabod believed he would be chosen as her favourite. After a party at her father's home, Ichabod proposed to Katrina and was very quickly rejected. He immediately rode off in shame and was never seen in Sleepy Hollow again. According to Crane, he was chased out of town by the Headless Horseman, but in reality it was probably just another one of Brom's pranks. 
Ad blocker interference detected!
Wikia is a free-to-use site that makes money from advertising. We have a modified experience for viewers using ad blockers

Wikia is not accessible if you've made further modifications. Remove the custom ad blocker rule(s) and the page will load as expected.