"Fables #94"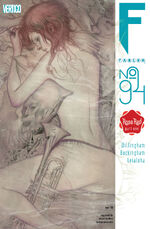 | | |
| --- | --- |
| First published in | March 2010 |
| Written by | Bill Willingham |
TBA.
Pinocchio attacks the Blue Fairy before she can harm Geppetto. However she uses her magic to cage him, but Beast tells her why she can't harm Geppetto. Ghost Colin allows Rose Red to talk to her ghost mother, who is also dead. King Cole tells Ozma to warn him next time when she is going to do something. Beast delays the Blue Fairy's wrath to Geppetto for 777 days. Maddy continues to watch as Mr. Dark uses his power for evil. Bigby and Snow hold a meeting at their house with King Cole, Beast, and a visibly pregnant Beauty. They talk about the recent power struggles. Meanwhile outside the Farm, Reynald the Fox is enjoying his new transformation. Rose Red continues talking to her deceased mother.
Ad blocker interference detected!
Wikia is a free-to-use site that makes money from advertising. We have a modified experience for viewers using ad blockers

Wikia is not accessible if you've made further modifications. Remove the custom ad blocker rule(s) and the page will load as expected.