"Fables #89"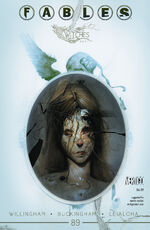 | | |
| --- | --- |
| First published in | October 2009 |
| Written by | Bill Willingham |
TBA.
The magic mirror tells Bufklin that he is going to have to lead them out of this. Frau Totenkinder enters the chamber where Mr. Dark was incarcerated, the room is filled with gold. Bigby and Beast send Mrs. Finch to get a quick look at Fabletown and report back. Beast tells Bigby that he is scared about Beauy's pregnancy. Before she could escape, Mr. Dark kills her. Baba Yaga brings back her three sons and tells them to find her way out of the Business Office. t tricks the genii into entering his bottle, while the magica mirror tells Baba Yaga
Ad blocker interference detected!
Wikia is a free-to-use site that makes money from advertising. We have a modified experience for viewers using ad blockers

Wikia is not accessible if you've made further modifications. Remove the custom ad blocker rule(s) and the page will load as expected.