"Fables #83"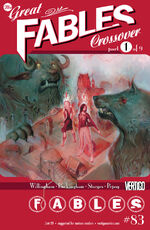 | | |
| --- | --- |
| First published in | April 2009 |
| Written by | Bill Willingham |
TBA.
Everyone gathers to see Bigby and Beast fight eachother. Before they can kill eachother, they wives get in between them and calm them down. Both Bigby and Best tell their wives that the dark evil had to effect their minds making them go crazy. Everyone at the Farm besides Bigby have a picnic, but Stinky tells everyone that Jack has called. King Cole proposes that Snow and Bigby go to see what Jack is possibly planning, while Beauty and Beast watch over their kids. In New York, a mundy couple is murdered in an alley way, no doubt due to Mr. Dark's presence.
Ad blocker interference detected!
Wikia is a free-to-use site that makes money from advertising. We have a modified experience for viewers using ad blockers

Wikia is not accessible if you've made further modifications. Remove the custom ad blocker rule(s) and the page will load as expected.