"Fables #76"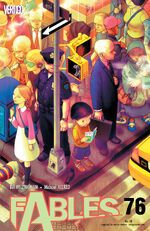 | | |
| --- | --- |
| First published in | October 2008 |
| Written by | Bill Willingham |
TBA.
Hobbes, Beast, Pinocchio, and Grimble escort Geppetto around Fabletown. Snow sends the kids to their first day of school. Bigby tells the fables that when Geppetto tries something evil, they will kill him. Ms. Cornhusk cries and shouts at Geppetto as her entire family were murdered because of him. Kay bumps into Geppetto and is horrified that of all the horrible things that's he's done, so he cuts his eyes out again. Pinocchio tells his father that they can look at an actual aircraft carrier to show how he lost the war, which intrigues Geppetto.
Ad blocker interference detected!
Wikia is a free-to-use site that makes money from advertising. We have a modified experience for viewers using ad blockers

Wikia is not accessible if you've made further modifications. Remove the custom ad blocker rule(s) and the page will load as expected.