"Fables #56"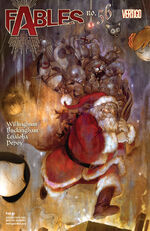 | | |
| --- | --- |
| First published in | February 2007 |
| Written by | Bill Willingham |
Issue 56 is the fifty-sixth issue in Fables.
TBA.
Many years ago, Jack got caught trying to steal Santa's list of naughty and nice. In the present, at Bigby's family mansion, the kids use their powers to decorate the Christmas tree. Bigby asks Snow what she wants for Christmas, and she tells him that she wants to visit the North Wind and his kingdom in the Homelands which isn't in the Adversary's control. Boy Blue and Rose Red acquire a magic flying carpet, try it out, and bring the Wolf family their presents on it. They stay for dinner. After hearing that Santa will answer a question in exchange for no presents to whoever sees him, the kids draw straws and Ambrose has to do it. Dare tells him the question is how to get the best presents as possible, but Ambrose goes against the deal to ask Santa how he delivers all the presents worldwide. Santa tells him that he is such a powerful/magical fable, that there are multiple copies of him so that he can get to every house worldwide. Santa also visits Flycatcher, gives him enough time with his deceased wife to kiss him, changing him back into a man. When Ambrose goes to bed, Santa talks to Bigby and gives him another list to keep safe.
Ad blocker interference detected!
Wikia is a free-to-use site that makes money from advertising. We have a modified experience for viewers using ad blockers

Wikia is not accessible if you've made further modifications. Remove the custom ad blocker rule(s) and the page will load as expected.