"Fables #54"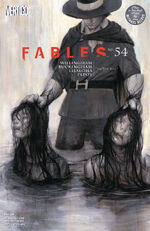 | | |
| --- | --- |
| First published in | December 2006 |
| Written by | Bill Willingham |
Issue 54 is the fifty-fourth issue in Fables.
TBA.
Prince Charming enters the Business Office where he has a brief word with Hansel who promptly leaves. Prince Charming tells Beast that he wants Hansel spied on and everyone he talks to. Frau tells the her story of how she had a ginger bread house to lure Hansel and Gretel as children where she intended to eat them. However they killed her and when she returned alive, Hansel left on a witch hunting crusade while Gretel stayed in Fabletown. Hansel murders her sister believing her to possessed when she tells Hansel that Frau's past deeds are long forgotten. Prince Charming tells everyone that they have to send Flycatcher to the Farm.
Ad blocker interference detected!
Wikia is a free-to-use site that makes money from advertising. We have a modified experience for viewers using ad blockers

Wikia is not accessible if you've made further modifications. Remove the custom ad blocker rule(s) and the page will load as expected.