"Fables #53"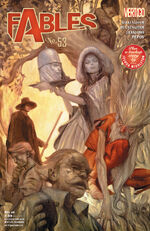 | | |
| --- | --- |
| First published in | November 2006 |
| Written by | Bill Willingham |
Issue 53 is the fifty-third issue in Fables.
TBA.
The Empire plans to use three plague to destroy Fabletown the the whole mundy world. A plague of disease, then fire, then winter, and finally famine. Rodney tells Pinocchio that he has to be one who needs to tell Geppetto their disregard for the plan. After saving Peter Rabbit from wolves that wanted to hurt him, Bigby asks him if Peter would be willing to play chase with his children as they are becoming older and more wolf-like. Geppetto tells Hansel that he is going to Fabletown to bring back Baba Yaga and any captured Wooden soldiers.
Ad blocker interference detected!
Wikia is a free-to-use site that makes money from advertising. We have a modified experience for viewers using ad blockers

Wikia is not accessible if you've made further modifications. Remove the custom ad blocker rule(s) and the page will load as expected.