"Fables #47"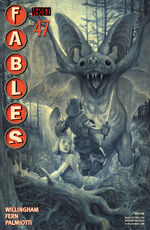 | | |
| --- | --- |
| First published in | May 2006 |
| Written by | Bill Willingham |
Issue 47 is the forty-seventh issue of Fables.
TBA.
Captain Arturo allows Rodney and June to personally meet with Geppetto to settle the problem. They are turned to humans, they marry, and they are about to have children. However the Snow Queen tells them that they have to repay their favor, so they are taught the mundy ways because they will be spies for the Empire. However they become miserable, as they are slaves to the Empire.
Ad blocker interference detected!
Wikia is a free-to-use site that makes money from advertising. We have a modified experience for viewers using ad blockers

Wikia is not accessible if you've made further modifications. Remove the custom ad blocker rule(s) and the page will load as expected.