"Fables #40"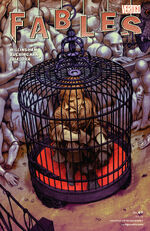 | | |
| --- | --- |
| First published in | October 2005 |
| Written by | Bill Willingham |
since Pinochio was always leaving him.Issue 40 is the fortieth issue of Fables.
TBA.
Boy Blue wakes up and finds himself caged and face to face with Geppetto, Pinocchio's father. Boy Blue discovers that he is not the emperor, but the Adversary himself. Boy Blue tells him that he can destroy the cloak and everything in it, including Pinocchio, by saying the trigger words. Boy Blue demands the real Red Riding Hood, Geppetto's side of the story, and a final goodbye from Pinocchio. He tells Blue that he was lonely and made more children since Pinocchio was always leaving him. When the feudal lord demands too much from the people, Geppetto accepts the offer to make a wooden replica of him. He then replaced all the kings in the worlds over time. Geppetto says that he got in too deep to get out, and he eventually captured the Blue Fairy for infinite blue magic. The Real Red Riding Hood is awaken to met Boy Blue. Geppetto uses some blue magic and revives Pinocchio. Pinocchio questions where he is, why Boy Blue is in a cage, why is he naked and who is the weird old man.
Ad blocker interference detected!
Wikia is a free-to-use site that makes money from advertising. We have a modified experience for viewers using ad blockers

Wikia is not accessible if you've made further modifications. Remove the custom ad blocker rule(s) and the page will load as expected.