"Fables #38"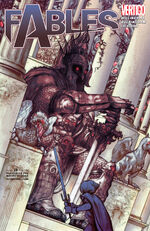 | | |
| --- | --- |
| First published in | August 2005 |
| Written by | Bill Willingham |
Issue 38 is the thirty-eighth issue of Fables.
TBA.
Winter/ the Snow Queen is sure that the Black Knight will attack today. Meanwhile everyone gets ready for her arrival. Boy Blue disguised as a guard, sees the Emperor, and is speechless as he is a massive warrior. Snow Queen alerts the crowd of an assassin, Boy Blue disguised as a guard is quickly spotted and caught. The guard is killed, however it is revealed that Boy Blue wasn't a guard, but a slave. He had a dummy to take the fall for him. Boy Blue goes a decapitates the Emperor in front of everyone. Boy Blue tries to leave by turning into a bird, but he is frozen completely by the Snow Queen.
Ad blocker interference detected!
Wikia is a free-to-use site that makes money from advertising. We have a modified experience for viewers using ad blockers

Wikia is not accessible if you've made further modifications. Remove the custom ad blocker rule(s) and the page will load as expected.