"Fables #37"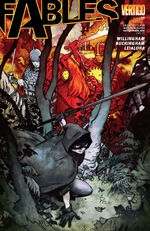 | | |
| --- | --- |
| First published in | July 2005 |
| Written by | Bill Willingham |
Issue 37 is the thirty-seventh issue of Fables.
TBA.
Boy Blue fights the dragon, and wraps the invincible Witching Cloak around his mouth causing the dragon to burst inflames from holding in his breath. Boy Blue enters a portal into another realm though the inside of the dead dragon. Boy Blue then battles the White Horseman, but suspects that Bigby tricked him into thinking Baba Yaga is dead. Blue also kills his two brothers who are also knights. However members of the Empire soon discover Boy Blue's intentions. Using the cloak, Blue transforms into multiple animals. Meanwhile at the Empire, the Snow Queen says that the Black Knights talents won't compare to hers.
Ad blocker interference detected!
Wikia is a free-to-use site that makes money from advertising. We have a modified experience for viewers using ad blockers

Wikia is not accessible if you've made further modifications. Remove the custom ad blocker rule(s) and the page will load as expected.