"Fables #34"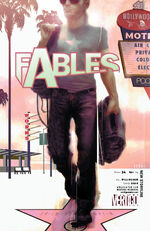 | | |
| --- | --- |
| First published in | April 2005 |
| Written by | Bill Willingham |
Issue 34 is the thirty-fourth issue of Fables.
TBA.
Jack and Jill leave Fabletown and stole a huge truckload of Bluebeard's fortune. They arrive to Hollywood, and Jack works with a mundy Bernie to purchase a studio building. To look cool, Jack fires Bernie. Also Jill is mad at Jack and says she wants to go home. Jack wants to make a series of movies of him, and seducing female Fables and killing Bigby. Jack works with Moss, another mundy, to create his dream movies. Meanwhile some mundys give their opinions about John Trick, really Jack, some were positive, but most were negative. Jacks first movie is premiering, and he tells Jill that he won't get caught this time.
Ad blocker interference detected!
Wikia is a free-to-use site that makes money from advertising. We have a modified experience for viewers using ad blockers

Wikia is not accessible if you've made further modifications. Remove the custom ad blocker rule(s) and the page will load as expected.