"Fables #33"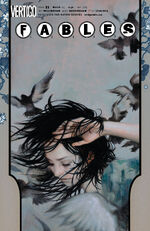 | | |
| --- | --- |
| First published in | March 2005 |
| Written by | Bill Willingham |
Issue 33 is the thirty-third issue of Fables.
TBA.
In spring, Snow's children have learned to fly and four more Fables have died via choking, due no signs of a struggle. Reynard the Fox informs Snow that the fifth victim is Mary's Little Lamb. North Wind tells them that the killer is a Zephyr, a gust of invisible wind that cannot take on solid form. Snow gets the North Wind to train her children to shapeshift even though he is looking for the Zephyr. Rose Red tells Beast to give Flycather his old job back, so he would be too distracted to think about his family that he lost in the Homelands. In Snow's room, the Zephyr comes to Snow, where it's revealed that it is her other son. Snow tells him to find his father Bigby, as everyone will be looking for him. Snow's children are finally one years old, and she gives them cupcakes and presents.
Sally Morrison
Barbara Allen
Jack Spratt
Mary's Little Lamb
Ad blocker interference detected!
Wikia is a free-to-use site that makes money from advertising. We have a modified experience for viewers using ad blockers

Wikia is not accessible if you've made further modifications. Remove the custom ad blocker rule(s) and the page will load as expected.