"Fables #31"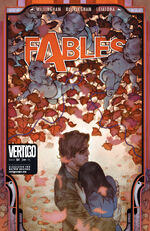 | | |
| --- | --- |
| First published in | January 2005 |
| Written by | Bill Willingham |
Issue 31 is the thirty-first issue of Fables.
TBA.
Bigby, Beast and Cindy interrogate a decapitated Wooden soldier, while Snow shows Beauty the ropes of the Business Office. Meanwhile Cole moves out of his apartment for Charming and Swineheart cures Boy Blue's hands. Cole moves in with Blue and Bigby shows the Sheriff ropes to Beast. Bigby introduces Beast to Gudrun, an unglamoured secret swan that lays golden eggs. Snow leaves with her children to the Farm, while Bigby also goes somewhere. They make it to the Farm, where Rose Red meets her new nephews and nieces. Hobbes wakes up Prince Charming and says that Boy Blue is gone and he has stolen the Witching Cloak, the Vorpal Sword and Pinocchio's body. In her dream, Colin tells Snow that evil things are still coming in the future.
Ad blocker interference detected!
Wikia is a free-to-use site that makes money from advertising. We have a modified experience for viewers using ad blockers

Wikia is not accessible if you've made further modifications. Remove the custom ad blocker rule(s) and the page will load as expected.