"Fables #28"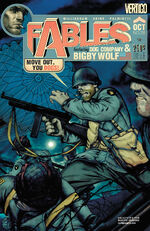 | | |
| --- | --- |
| First published in | October 2004 |
| Written by | Bill Willingham |
Issue 28 is the twenty-eighth issue of Fables.
TBA.
Bigby visits his old World War buddy ,Shawn Duffy who has terminal cancer. He gives Bigby a book about all his war adventures that he wants him to have. In the story, soldiers drop out of planes and into German infested areas, while camping out, Bigby appears. Due to Bigby's incredible senses including smell, he could detect anyone near their position. Some soldiers, including Bigby disguise themselves with Nazi uniforms. Bigby leads some troops though a secret tunnel underneath the castle crawling with Nazis. Bigby alone, enter into the scientists lab where they are working and finishing with Frankenstein.
This story continues in issue 29.
Ad blocker interference detected!
Wikia is a free-to-use site that makes money from advertising. We have a modified experience for viewers using ad blockers

Wikia is not accessible if you've made further modifications. Remove the custom ad blocker rule(s) and the page will load as expected.