"Fables #27"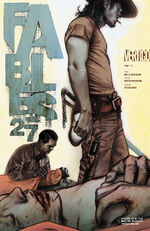 | | |
| --- | --- |
| First published in | September 2004 |
| Written by | Bill Willingham |
Issue 27 is the twenty-seventh issue of Fables.
TBA.
Frau Totenkinder confronts Baba Yaga, she blows Baba Yaga away , makes it rain and the two begin to battle. Snow hugs Bigby and tells him that she is glad he is here. They then break off into teams to clean up the mess. Bigby tells Snow to get back inside as she is heavily pregnant, Rose Red becomes actually impressed with her older sister for the first time in a long time. Baba Yaga is heavily wounded and defeated by Frau, who goes back to her knitting. King Cole tells Snow that they will rebuilt Fabletown, but they first have to commence with the funeral. After putting Boo's body in the witching well, the mouse/mounted police are next. Next is Baba Yaga's body, they say no fancy words and only do it so she can never come back again. However, it is revealed that Baba Yaga is still alive, barely and secretly. Bigby and Frau plan to use her to get information about the Adversary. As the Fables are mourn their losses, Boo and Pinocchio, Mama Bear reveals she is pregnant. Suddenly Snow tells Bigby that she thinks her water just broke.
Five Mouse Police (Confirmed Fate)
Ad blocker interference detected!
Wikia is a free-to-use site that makes money from advertising. We have a modified experience for viewers using ad blockers

Wikia is not accessible if you've made further modifications. Remove the custom ad blocker rule(s) and the page will load as expected.