"Fables #24"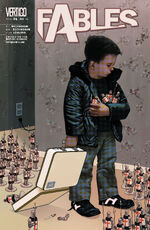 | | |
| --- | --- |
| First published in | June 2004 |
| Written by | Bill Willingham |
Issue 24 is the twenty-fourth issue of Fables.
TBA.
At the Farm, Rose Red finds out that something wield is beginning to happen. Back at the warehouse, Boy Blue is being tortured for information. After Baba Yaga, the fake Red Riding Hood, tells the Wooden soldiers that her senses are better than theirs, she shows part of her demonic power after they call her a piece of meat. Bigby calls Snow and tells her that the Canadian Fable garrison are all dead. Bigby turns into a full wolf and tells Snow to prepare for an invasion. Snow holds a meeting, until the Wooden soldiers arrive with a message, they will return in 24 hours for all of their magic. They also say they Pinocchio is they're oldest brother and they leave. Snow tells Flycatcher and Charming to take Blue and John to the hospital immediately. Pinocchio tells Flycatcher that since the Wooden soldiers are his brothers, his father must still be alive after all this time.
Ad blocker interference detected!
Wikia is a free-to-use site that makes money from advertising. We have a modified experience for viewers using ad blockers

Wikia is not accessible if you've made further modifications. Remove the custom ad blocker rule(s) and the page will load as expected.