"Fables #23"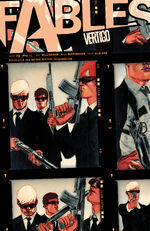 | | |
| --- | --- |
| First published in | May 2004 |
| Written by | Bill Willingham |
Issue 23 is the twenty-third issue of Fables.
TBA.
The story picks up where Issue 21 left off, but during Issue 22. Jack tries in vain get get Bigby and Snow to believe his story. Meanwhile the Wooden soldiers murder a mundy after he tells them that they need to wait three days for the guns they want. Boy Blue sadly plays his trumpet, but after "Red Riding Hood" asks for his forgiveness from earlier. Boy Blue agrees and they run together, leaving behind his trumpet. His trumpet dents, giving a bad omen. Prince Charming tells Beauty and Beast that they can become the new new Sheriff and Deputy Mayor of Fabletown since Snow and Bigby will most likely quit if he is elected as mayor. "Ride" asks some confidential questions about Fabletown and sleeps with Boy Blue to get answers. However when Boy Blue wants to know who she really is, she knocks him out and tells the Wooden soldiers that she plans to question hum differently this time.
Ad blocker interference detected!
Wikia is a free-to-use site that makes money from advertising. We have a modified experience for viewers using ad blockers

Wikia is not accessible if you've made further modifications. Remove the custom ad blocker rule(s) and the page will load as expected.