"Fables #21"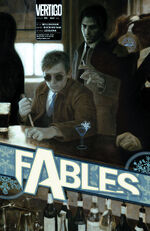 | | |
| --- | --- |
| First published in | March 2004 |
| Written by | Bill Willingham |
Issue 21 is the twenty-first issue of Fables.
TBA.
Jacks tries to scheme Thrushbeard with his magic beans, but it fails. Bigby visits Kay so he can use his evil curse on "Red Riding Rood", but Kay says that it will takes at least three years for his eyes to grow back as he cut them out due to him magically seeing a persons evil deeds just by looking at them. Outside a bar and the Woodlands, Jack is attacked by three Wooden soldiers. Bigby tells King Cole that he is going on a trip. Meanwhile Jack breaks free from the Wooden soldiers and knocks one off a rooftop, crashing into another. They promise that they will return and leave behind a broken leg. As Bigby tells Snow to keep an eye on "Red Riding Hood"until he returns, Jacks bursts though the Business Office with the Wooden's leg.
Ad blocker interference detected!
Wikia is a free-to-use site that makes money from advertising. We have a modified experience for viewers using ad blockers

Wikia is not accessible if you've made further modifications. Remove the custom ad blocker rule(s) and the page will load as expected.