"Fables #20"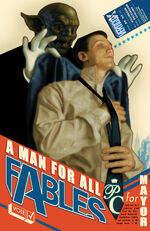 | | |
| --- | --- |
| First published in | February 2004 |
| Written by | Bill Willingham |
Issue 20 is the twentieth issue in Fables.
TBA.
Boy Blue cuts his foot on Pinocchio toy soldiers. The Fables interview "Red Riding Hood" and Prince Charming gives his speech to the residents of Fabletown. Boy Blue meets her, but she refuses to speak with him as he 'abandoned' her. Wooden Soldiers arrive at New York, attack a mundy and continue searching for Fabletown. Bigby tells Snow his time during World War I and II, but she and Bigby suspect that Red's story doesn't match up. They suspect that she may be a spy for the Adversary; however, after Cole tells Red that she is going to re-meet Bigby, she has a panic attack and runs in terror not wanting to.
Ad blocker interference detected!
Wikia is a free-to-use site that makes money from advertising. We have a modified experience for viewers using ad blockers

Wikia is not accessible if you've made further modifications. Remove the custom ad blocker rule(s) and the page will load as expected.