"Out of the Woods"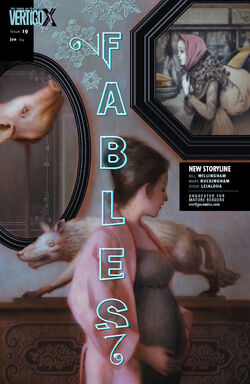 "Out of the Woods" is the nineteenth story in Fables.
TBA.
Baba Yaga (disguised as Red Riding Hood) drives in a truck with two men. The two men talk to her about Canada and she becomes amazed at all the things that the mundy world has to offer. Suddenly a car full of goblins crashes into their car. The two men get out of the car and try to take out the goblins. Meanwhile, at Snow's house, she is awoken by a vision of Colin. Colin informs her that there are bad things are coming to Fabletown.
While sorting Bluebeard's wealth, Bigby states that he need to talk to King Cole. Swineheart reports that Snow's pregnancy is going well, meanwhile Prince Charming hopes to become the new mayor of Fabletown. Bigby tells Snow that they need to talk, however after concluding that Price Charming hopes to become mayor she disregards it. Since the law is on Charming's side, they can't do much. Trusty John lets Snow and Bigby know that there is commotion outside. When they exit they see Red Riding Hood (Baba Yaga) who tells them that she escaped from The Empire and wishes to get sanctuary in Fabletown.
Locations
Edit
New York City
Canada
Saskatchewan
Two unnamed men.
Three goblins.
Ad blocker interference detected!
Wikia is a free-to-use site that makes money from advertising. We have a modified experience for viewers using ad blockers

Wikia is not accessible if you've made further modifications. Remove the custom ad blocker rule(s) and the page will load as expected.