"Duel"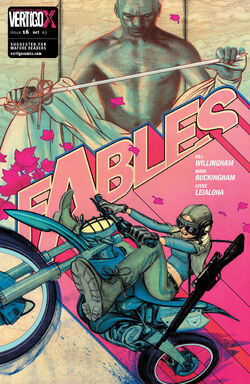 "Duel" is the sixteenth story in Fables.
TBA.
Bigby tells Snow that he can't stop noticing where she is and how he feels because of her smell. Snow says that this is beginning to sound creepy, but Bigby tells her that she shouldn't ask for an answer to a question that she wasn't ready to hear. Prince Charming goes to Bluebeard and wants to battle to the death as he now knows his intentions of killing Snow and Bigby.
Bigby transforms into his full wolf form again and blows Goldilocks out of her motorcycle. Prince Charming kills Bluebeard, but Bluebeard says he's already won, believing that Goldilocks had already killed Snow and Bigby. Goldilocks armed with a rifle yells for Bigby to show himself to which he says as you wish while attacking her.
Locations
Edit
Ad blocker interference detected!
Wikia is a free-to-use site that makes money from advertising. We have a modified experience for viewers using ad blockers

Wikia is not accessible if you've made further modifications. Remove the custom ad blocker rule(s) and the page will load as expected.