"Into the Woods"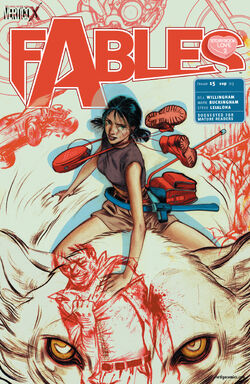 "Into the Woods" is the fifteenth story in Fables.
TBA.
Flycatcher, Boy Blue and Pinocchio talk about Snow and Bigby's absence and return to the Woodlands with comic books. The spell wares off and Bigby wakes up Snow so they can get a move on. Prince Charming finds the rest of the mounted/mouse police who say that Wilfred is missing.
Snow and Bigby find a car, but they accidentally crash it off a cliff. Snow resets Bigby's arm and he tells her that he heard a gunshot before they crashed which means that someone is after them. Bigby finally becomes full wolf and carries Snow with him to put distance between them and the shooter. It is revealed that Goldilocks was the one that shot at them and is going to the crash site now to finish the job. Snow asks Bigby why he is interested in her, to which he says he is about to explain.
Locations
Edit
Ad blocker interference detected!
Wikia is a free-to-use site that makes money from advertising. We have a modified experience for viewers using ad blockers

Wikia is not accessible if you've made further modifications. Remove the custom ad blocker rule(s) and the page will load as expected.