"Bigby Wolf and the Blustery Day"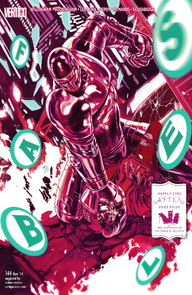 First published in
17 September 2014
Written by
Bill Willingham
Pencilled by
Mark Buckingham
Inked by
Steve Leialoha
Andrew Pepoy
Lettered by
Todd Klein
Colored by
Lee Loughridge
Assistant Editor
Rowena Yow
Editor
Shelly Bond
"Bigby Wolf and the Blustery Day" is the 144th issue of Fables. It was released on 17 September 2014. 
King Cole finds Ozma splayed on the ground in the courtyard of Castle Dark, after she fell from the New 13th Floor. She states that her flight spell must have malfunctioned, and quickly recovers and flies off towards Bigby. During this, she is spotted by a group of NYPD officers. 
Moments later, Beast arrives at the castle clad in the BGDA (Big Damn Golden Armor) suit, and also heads for Bigby. He meets up with Ozma, who is bluntly telling the police officers to stay away from the coming fight. The two then head into the fog while being observed by the other 13th floor members and Flycatcher. Meanwhile, Grimble is seen flying through an unknown world, while Leigh is attempting to force Bigby to go to the Farm.
Beast and Ozma find Bigby, and prepare to fight. Ozma reveals that she has no real experience in battle, but Beast reassures him and charges at Bigby, pinning him to the ground. After the feral wolf warns that Beast should have stayed away, he flips him over and bores into his suit, brutally killing him as he screams for his family. Bigby then makes short work of Ozma, biting her throat out. 
Snow White senses that Bigby is approaching the castle, and prepares herself. The 13th Floor is stunned at the loss of their leader, and moves to vote in a new one. However, Bellflower then arrives and announces that she'll be taking over again. 
Locations
Edit
Ad blocker interference detected!
Wikia is a free-to-use site that makes money from advertising. We have a modified experience for viewers using ad blockers

Wikia is not accessible if you've made further modifications. Remove the custom ad blocker rule(s) and the page will load as expected.