"Issue #135"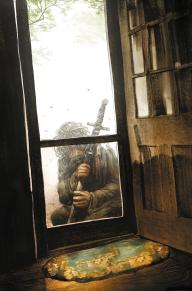 | | |
| --- | --- |
| First published in | August 2013 |
| Written by | Bill Willingham |
TBA.
Snow orders an unknown person on the phone to kill Brandish. Meanwhile at Fabletown, Rose Red and King Cole argue over the communities. Hundreds of fables arrive, but there are only six seats for the round table. Grinder brings a much bigger "table" so Rose Red can address everyone. Rose is the paladin of second chances. The knights will go and give others second chances when they need them. Rose Red says that there will be a competion to prove who are the most worthy knights. The witches construct Bigby's glass statue, but they are missing one last piece, the piece that Leigh stole. Snow tells her children that they need to stay away from Rose Red from now on.
Ad blocker interference detected!
Wikia is a free-to-use site that makes money from advertising. We have a modified experience for viewers using ad blockers

Wikia is not accessible if you've made further modifications. Remove the custom ad blocker rule(s) and the page will load as expected.