"Fables #125"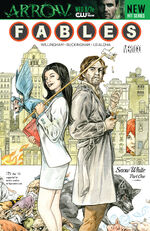 | | |
| --- | --- |
| First published in | October 2012 |
| Written by | Bill Willingham |
TBA.
At Mr. Dark's castle, Briar Rose is back and gives Bigby a magical kingdom transporting car as he doesn't know how to drive. Stinky/ Brock drives Bigby to search for his missing children. Beast and Flycatcher are worried when the Blue Fairy comes, as she has waited 777 days. If Beast can't figure out a plan, Beast becomes her slave for 777 years. Bigby drives the car, but is doing kinda poorly. Grimble gets suspicious of Mr. Hoat, but before he can shoot him, he turns Grimble into a blue bird. Leigh/ Nurse Spratt convinces King Cole to tell her his first name which is Roberon. Brandish arrives to Fabletown castle, and believes that him and Snow are nearly married.
Ad blocker interference detected!
Wikia is a free-to-use site that makes money from advertising. We have a modified experience for viewers using ad blockers

Wikia is not accessible if you've made further modifications. Remove the custom ad blocker rule(s) and the page will load as expected.