"Fables #124"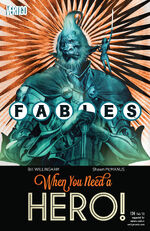 | | |
| --- | --- |
| First published in | September 2012 |
| Written by | Bill Willingham |
TBA.
In Oz, everyone is partying as the revolution was a success. After the Ozians ask Bufkin to be their new emperor, he decides not to, as he is more into adventure. Bufkin, Lilly, and Hangy the Rope leave for their next adventure. They go on more adventures, and eventually Doctor Karlo Van Kongmacher turns Lilly into a monkey, and she and Bufkin get together. They have children over the years and live for many years in Bufkin's cottage near the lunch box tree, both dying of old age.
Ad blocker interference detected!
Wikia is a free-to-use site that makes money from advertising. We have a modified experience for viewers using ad blockers

Wikia is not accessible if you've made further modifications. Remove the custom ad blocker rule(s) and the page will load as expected.