"Fables #122"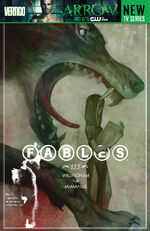 | | |
| --- | --- |
| First published in | July 2012 |
| Written by | Bill Willingham |
TBA.
Many years from now, Ambrose married and with children, he writes stories about the fables's secret adventures. In the past, Bigby was chasing Lake back in the day. As Bigby catches her and prepares to eat her, she offers a bargain. She tells Bigby his destiny of dying in twodays, he then leave upset of the fact. Magnus Atlantas gives Lake a Book of Fates. She tells him his fate, which is similar to Bigby's actually fate in the future. The turtle with the cup on her back tells Bigby that Lake assigns fates, not reveals them, and she can un assign them.
Ad blocker interference detected!
Wikia is a free-to-use site that makes money from advertising. We have a modified experience for viewers using ad blockers

Wikia is not accessible if you've made further modifications. Remove the custom ad blocker rule(s) and the page will load as expected.