"A Sharp Operation"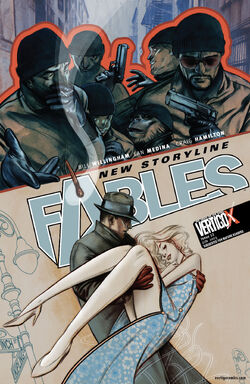 "A Sharp Operation" is the twelfth story in Fables.
TBA.
Bigby tells Briar Rose that she needs to stop falling asleep in public when other mundy's are in the same place as her. She tells Bigby she can't due to the magical enchantment. Boy Blue tells Bigby that someone wishes to see him. Outside, Tommy Sharp tells Bigby that he knows that he and the other members of the community are immortal. He suspects they are vampires and states that he will expose them to the world. Bigby denies this, but tells the other fables that they are going to do a dirty plan in order to remove the evidence. Briar Rose pricks her finger with a needle in the lobby of the building, making herself and everyone else in the building fall fast asleep. After getting into Sharp's apartment, Jack searches though the computer, Boy Blue finds Sharp on the toilet, while Bigby and Flycatcher remove any documents pertaining to Fabletown. Jack however tells Bigby that additional info is on a separate file in the computer that he can't get to, but tells Bigby that he has a plan, but wants to know how evil Bigby is prepared to get.
Locations
Edit
Ad blocker interference detected!
Wikia is a free-to-use site that makes money from advertising. We have a modified experience for viewers using ad blockers

Wikia is not accessible if you've made further modifications. Remove the custom ad blocker rule(s) and the page will load as expected.