"Fables #112"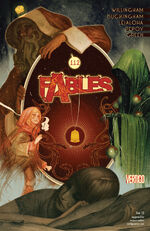 | | |
| --- | --- |
| First published in | September 2011 |
| Written by | Bill Willingham |
TBA.
During Christmas time, Flycatcher brings some fables to the Farm where they have a Christmas party. Winter magically brings her family home, but Bigby says that her training will have to wait after Christmas. The New Hopeful, the new paladin of the good lady, takes Rose Red on a journey. Rose Red accompanies Santa on his Christmas trip to the Wolf Manor. Santa tells Rose Red that she needs to pick a theme of hope that will represent her. Also the reindeers have some maternal dirt on Santa. However Rose Red wakes up , meaning it was a all a dream. Theresa opens her gift, and is displeased to find out it's a toy boat.
Ad blocker interference detected!
Wikia is a free-to-use site that makes money from advertising. We have a modified experience for viewers using ad blockers

Wikia is not accessible if you've made further modifications. Remove the custom ad blocker rule(s) and the page will load as expected.