"Fables #107"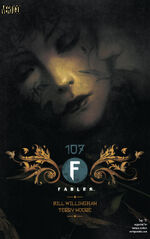 | | |
| --- | --- |
| First published in | April 2011 |
| Written by | Bill Willingham |
TBA.
Back at Imperial city, the city where vines trap everyone who is still asleep including Briar Rose, Jubilee Mirant appoints himself the new emperor. Jubilee reveals that he is using young men to kiss and wake up Briar Rose, as well as the whole city. However only true love works. Tiny goblins kill all the guards and take Briar Rose with them. The goblins magically revive their dead leader who was executed earlier. The goblins take Briar Rose and sleeping beauty away from the city. The goblins burn the whole city, killing nearly every sleeping person in it.
Ad blocker interference detected!
Wikia is a free-to-use site that makes money from advertising. We have a modified experience for viewers using ad blockers

Wikia is not accessible if you've made further modifications. Remove the custom ad blocker rule(s) and the page will load as expected.