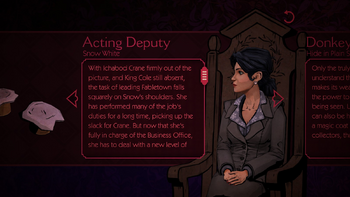 Acting Deputy is an unlockable Book of Fables entry in The Wolf Among Us, earned during Episode 4. 
Book of Fables Entry
Edit
With Ichabod Crane firmly out of the picture, and King Cole still absent, the task of leading Fabletown fall's squarely on Snow's shoulders. She has performed many of the job's duties for a long time, picking up the slack for Crane. But now that she is fully in charge of the Business Office, she has had to deal with a new level of politicking she had not previously been exposed to.
Ad blocker interference detected!
Wikia is a free-to-use site that makes money from advertising. We have a modified experience for viewers using ad blockers

Wikia is not accessible if you've made further modifications. Remove the custom ad blocker rule(s) and the page will load as expected.